This syndication is fully subscribed & closed to additional investors
investment for Accredited Investors only
Class A
multifamily
syndication
opportunity
In contrast to our previous Urbanist projects, this project is NOT STUDENT HOUSING and is NOT a furnished product. Our tenant focus is Class A Multifamily residents.
Job & Population Growth
A booming economy with nearly 9X faster job growth than the national average, and 4.7X faster population growth. Wow!
Skyrocketing Home Prices
Join a diversified fund of 5-8 new construction, fully zoned, build-to-rent projects located in hyper-growth locations such as Austin, San Antonio, and Fredericksburg. 6-8% cashflow during construction. 27-30% projected IRR.
Third-Party Validation
Join a diversified fund of 5-8 new construction, fully zoned, build-to-rent projects located in hyper-growth locations such as Austin, San Antonio, and Fredericksburg. 6-8% cashflow during construction. 27-30% projected IRR.
Top Reasons to Register for the Botanica Southpark Investor Presentation
Texas Named America's Best State for Business yet Again!
Voted by the nation's leading CEO's of America, Texas breaks records by winning Best State for Business a whopping 17 consecutive years
Our Metro, Austin, Is Experiencing Hyper-Growth
Austin is a super star metro with stellar population growth and a booming economy that is off the charts!
Optimized Amenities
Boutique buildings with desirable amenities to attract and retain high quality tenants
Wellness Real Estate
A growing asset class that is a goldmine opportunity in COVID-19 times
Independently Validated Market Study
Valbridge is the largest independent national commercial real estate valuation and advisory services firm in North America
Phenomenal Micro-Neighborhood
The micro-neighborhood is one of the best we have EVER seen for population, job and income growth!
Proven Business Model
50% of fourplexes pre-sold to buyers prior to construction on 3 recent projects, reducing investor risk
Experienced Team
Urbanist and Grocapitus are working on their 5th project together, with similar floor plans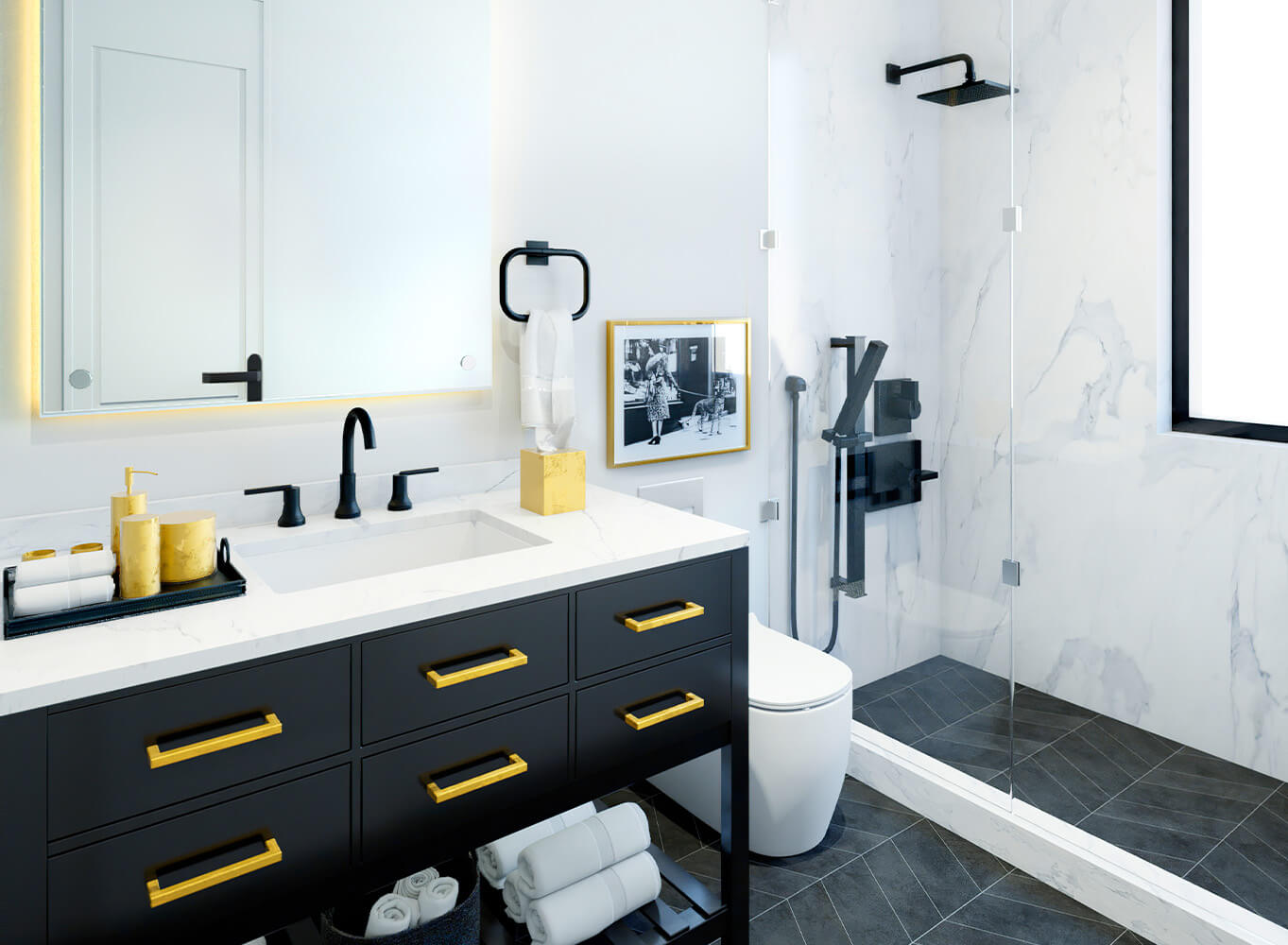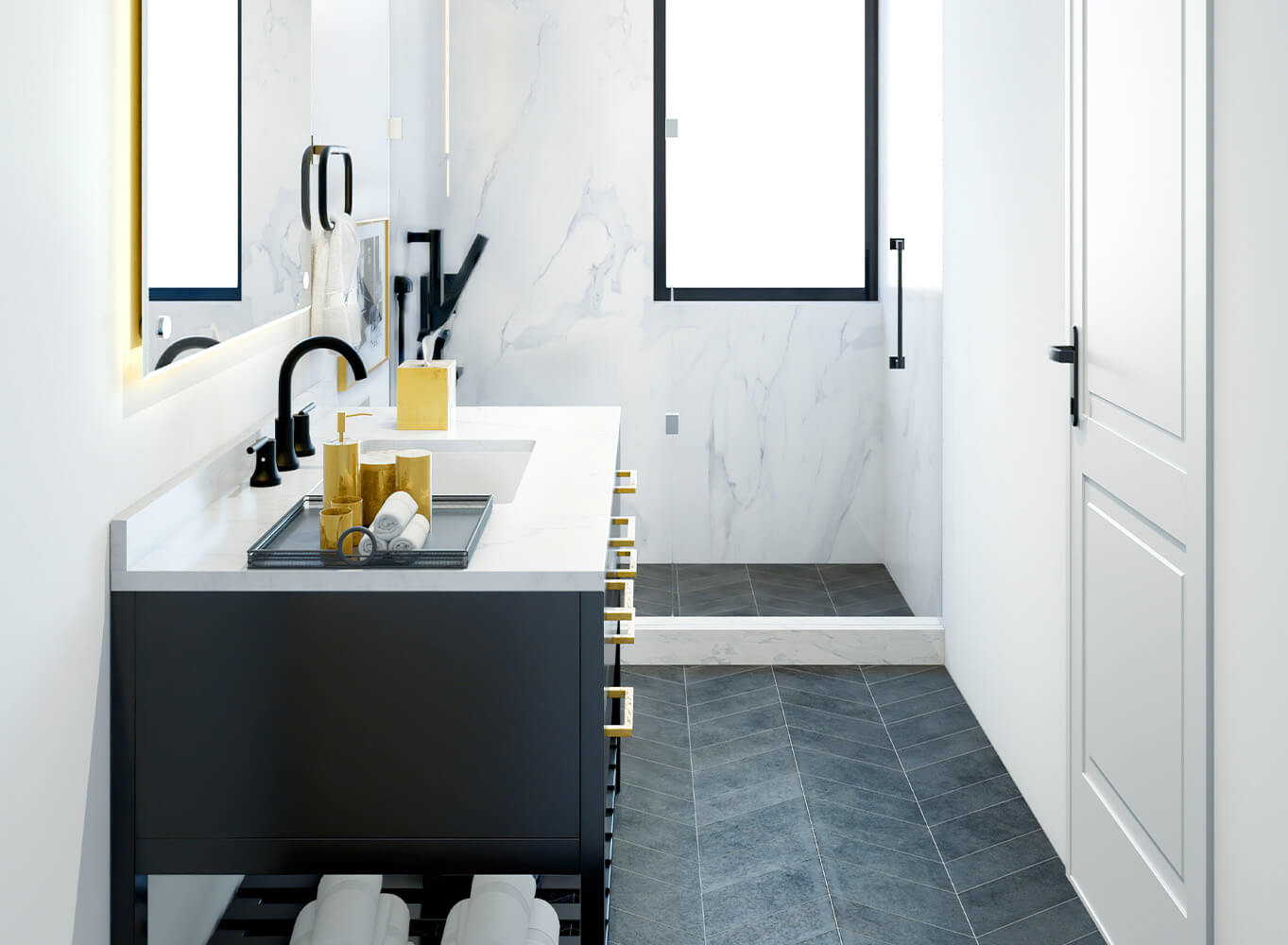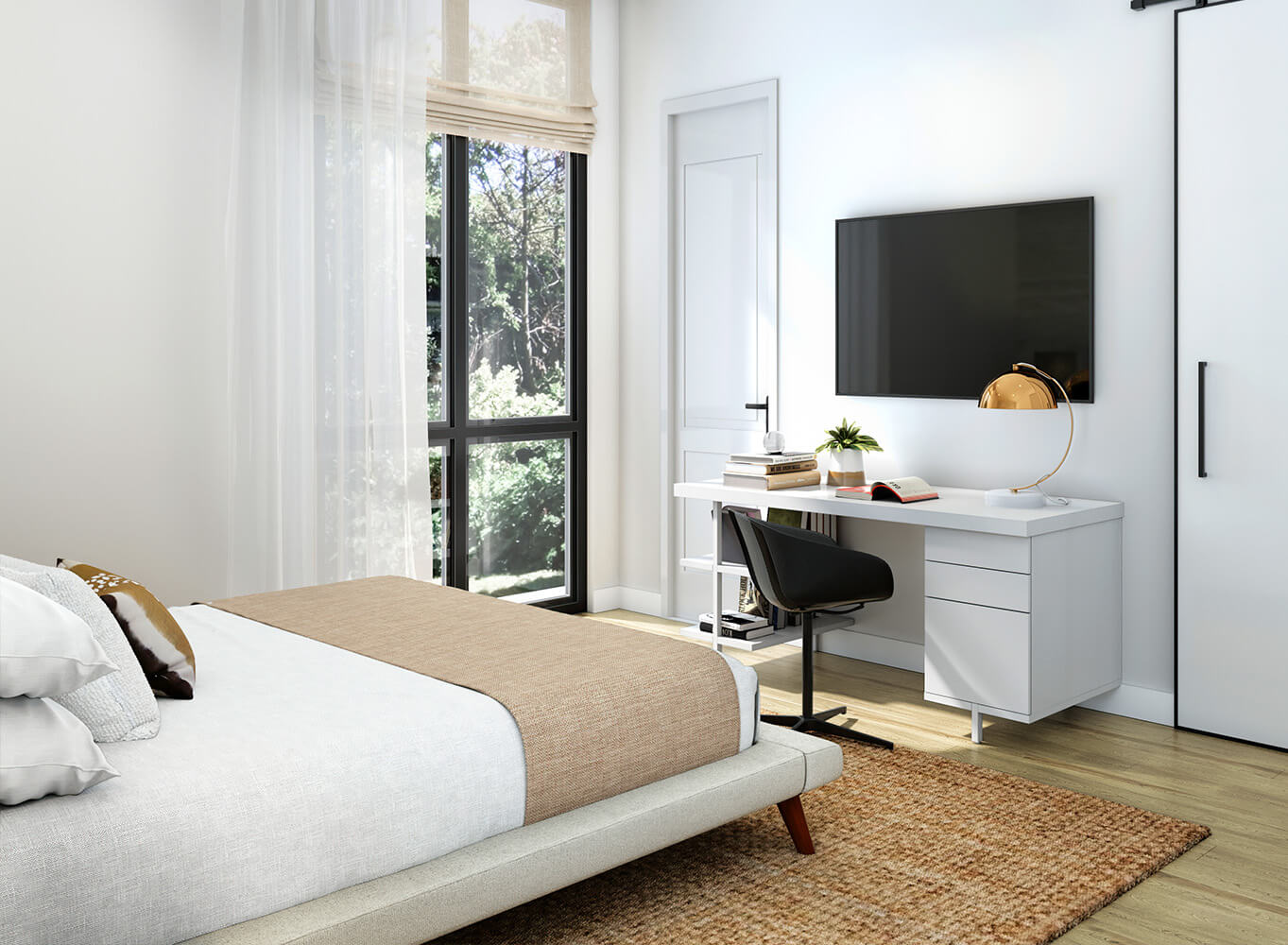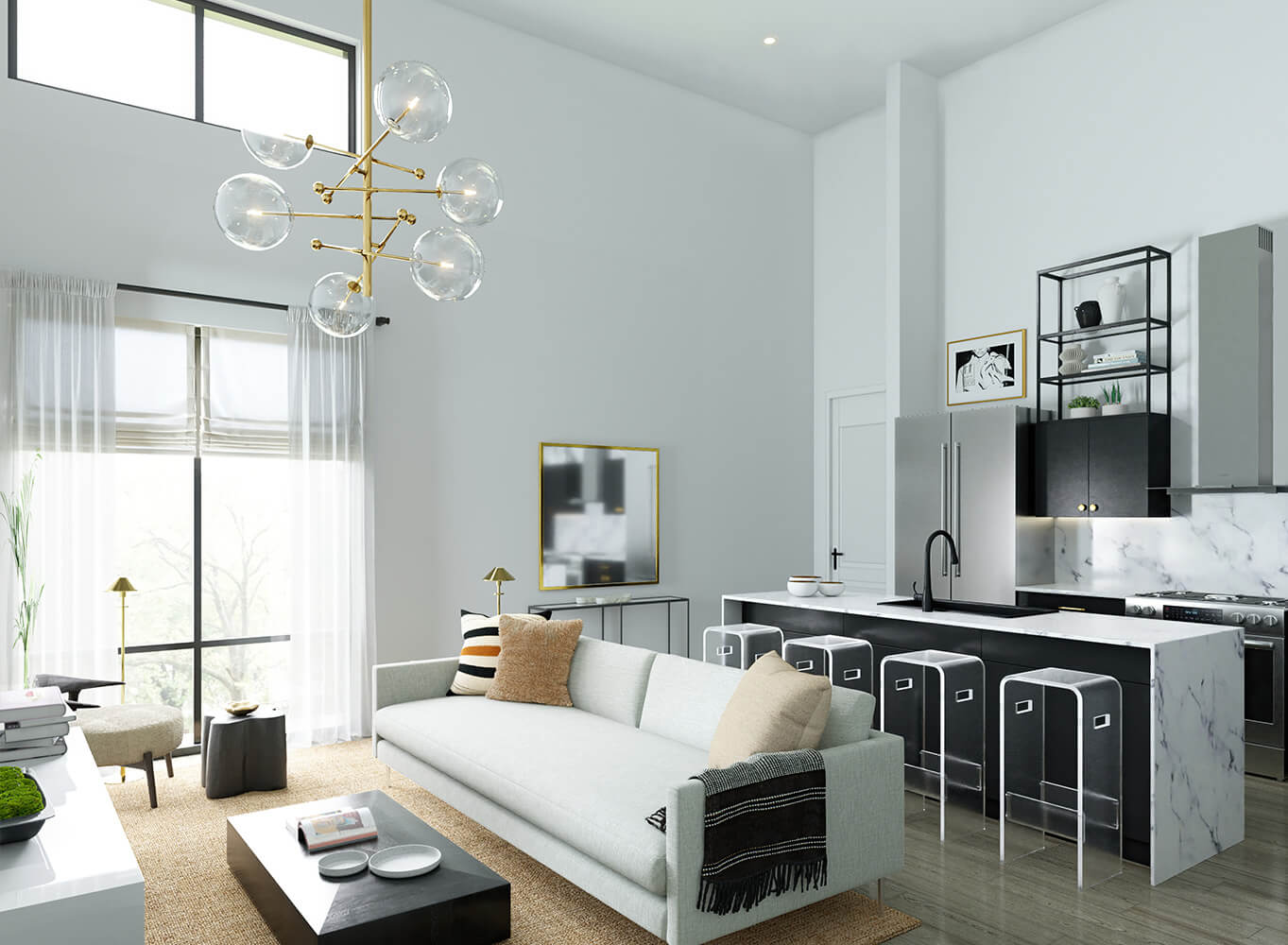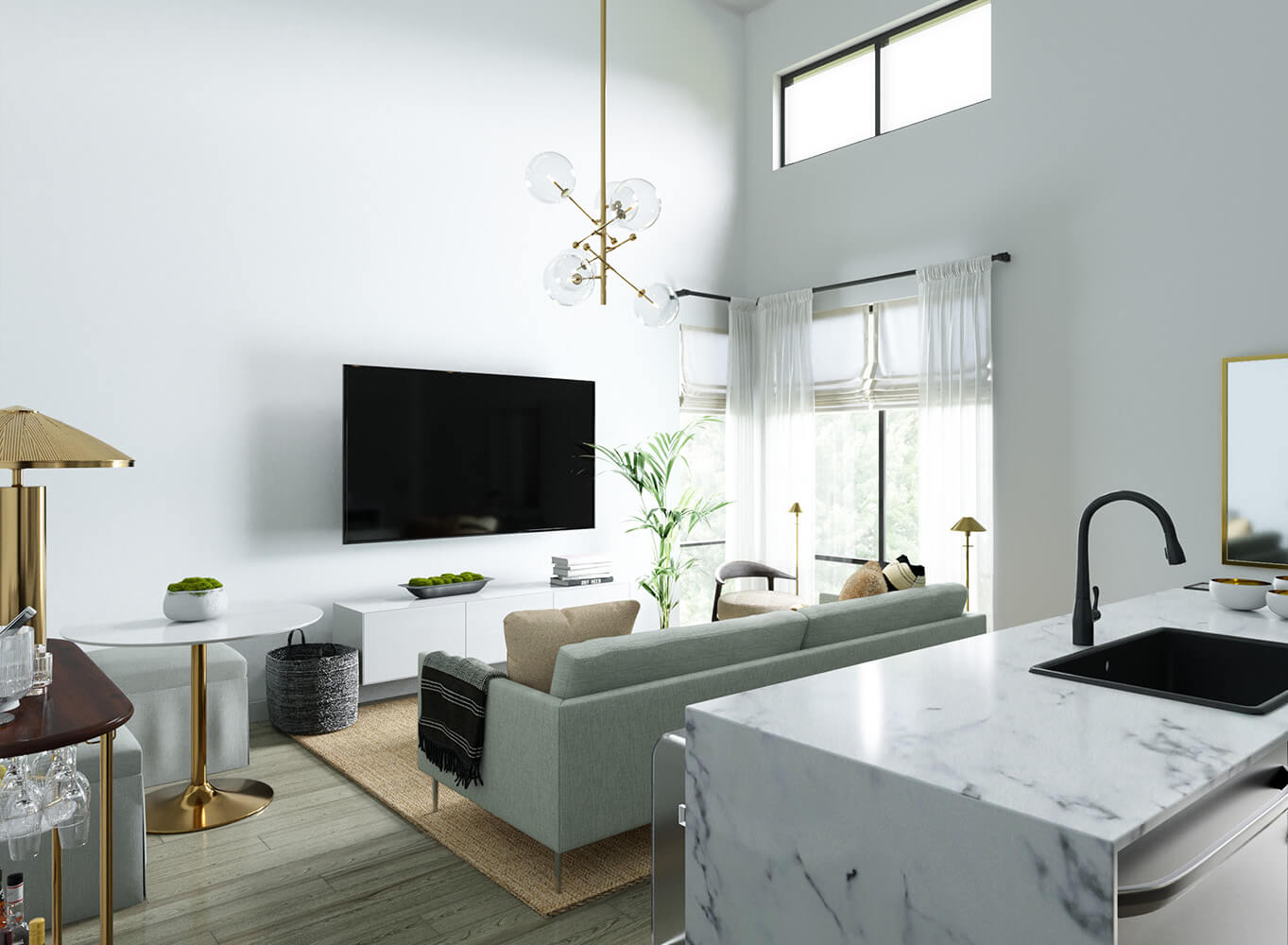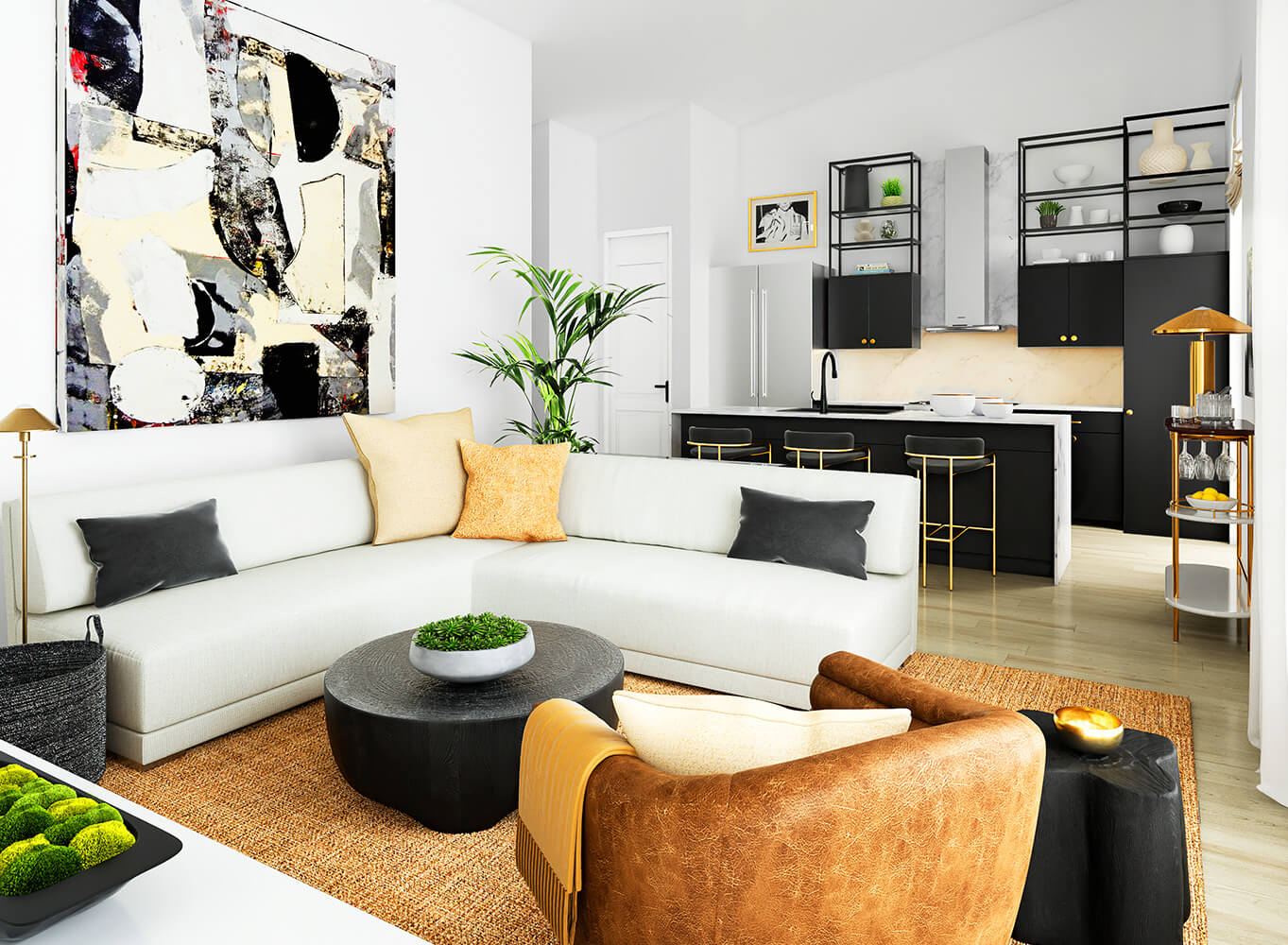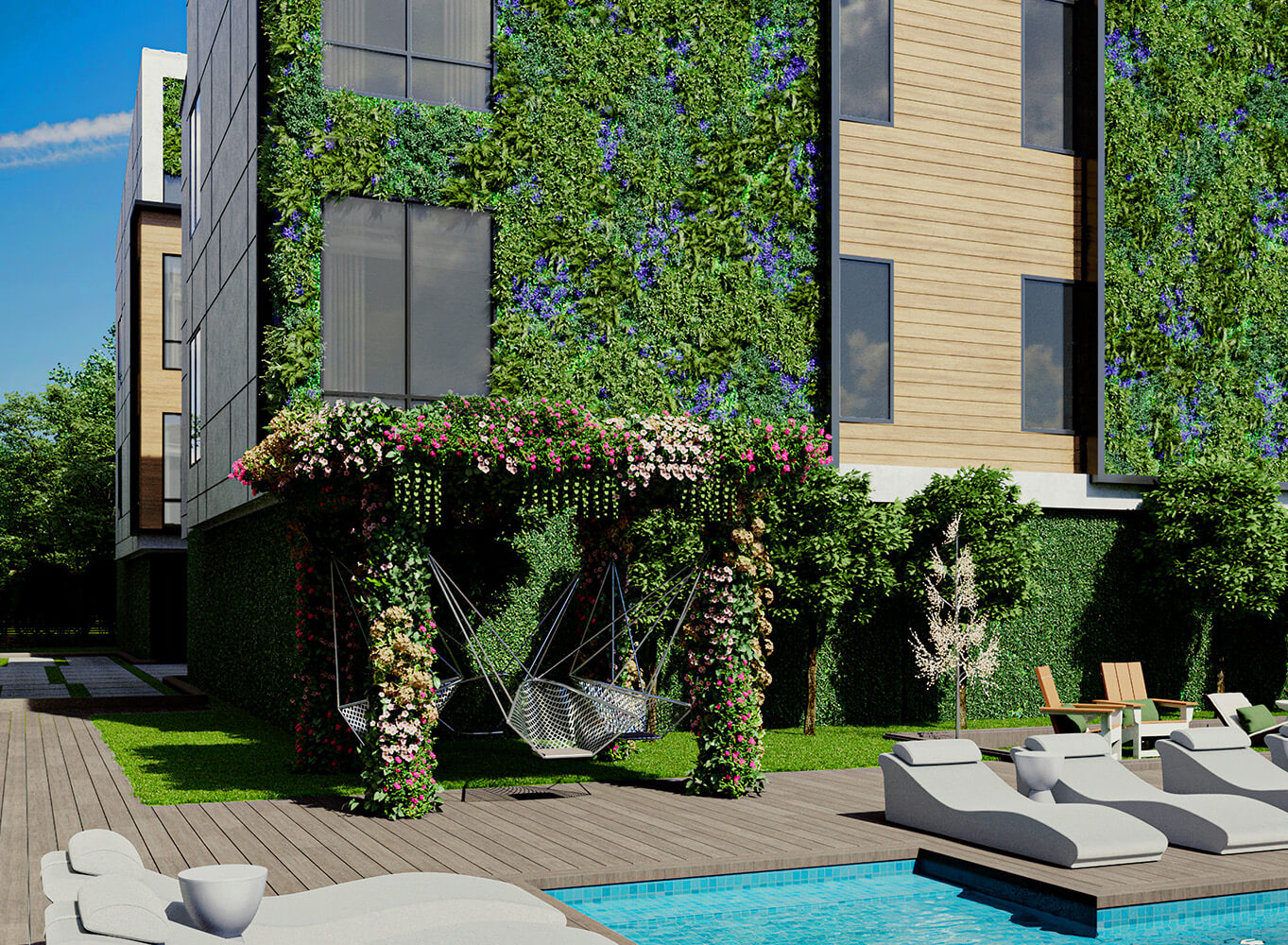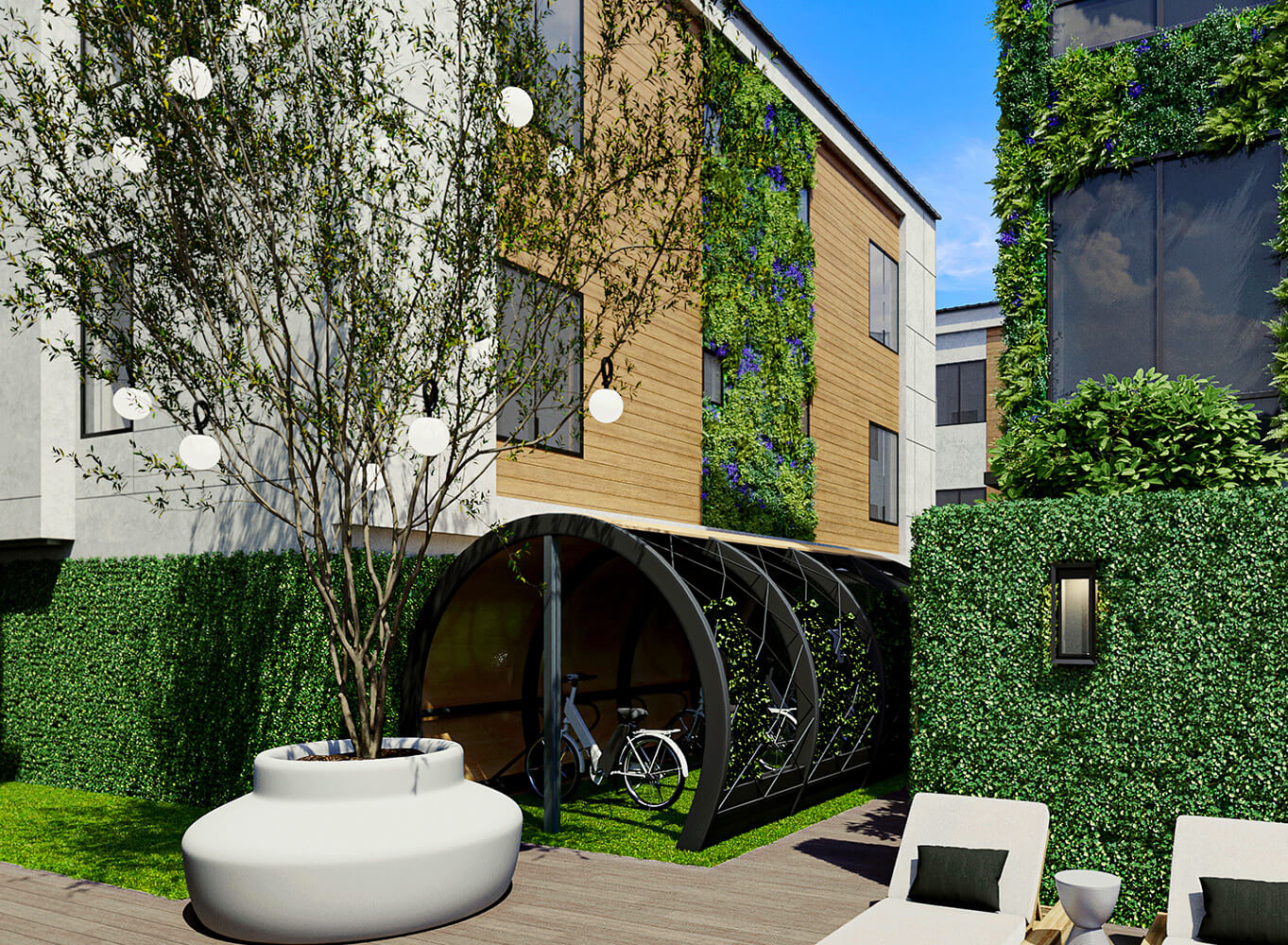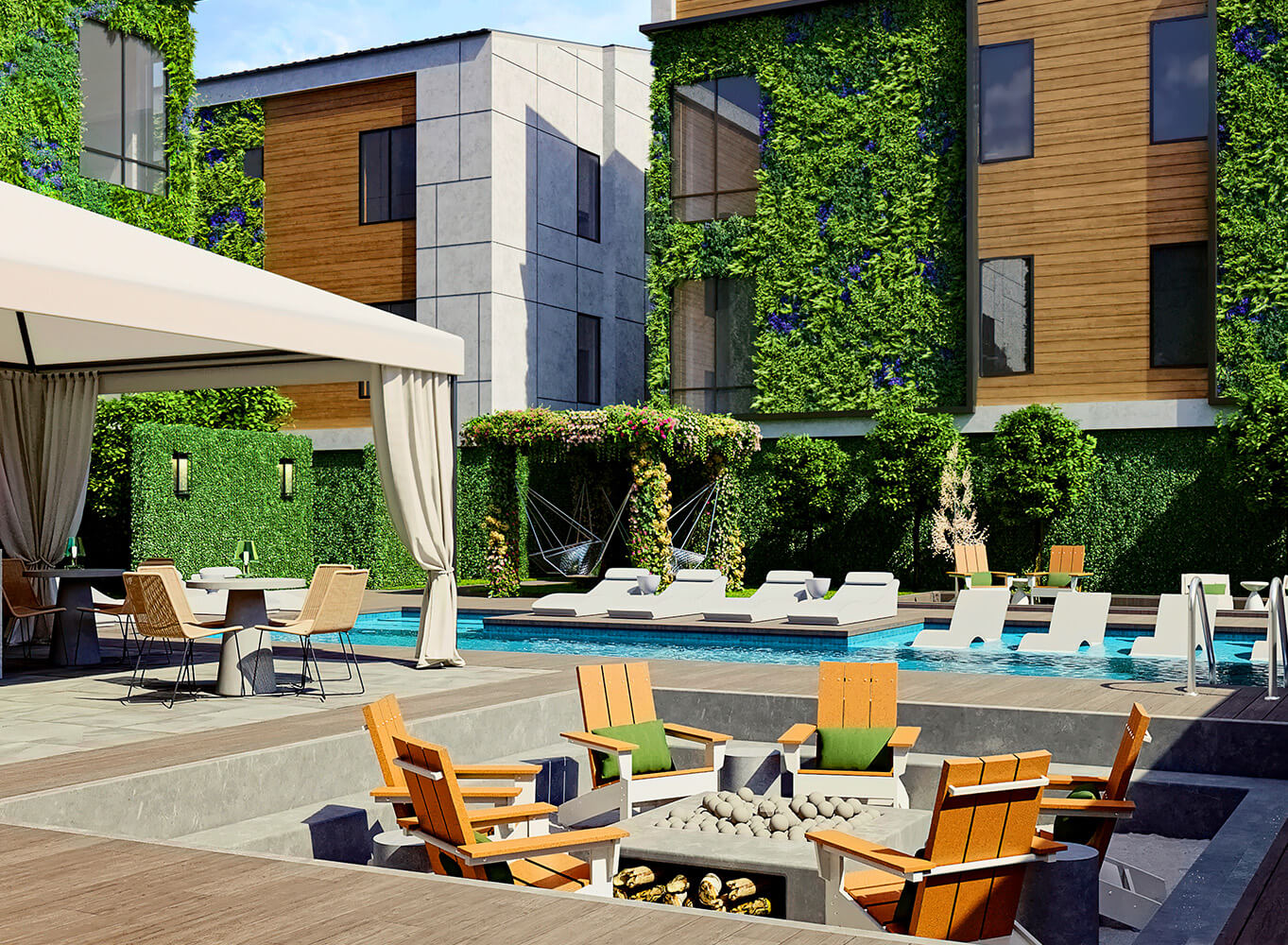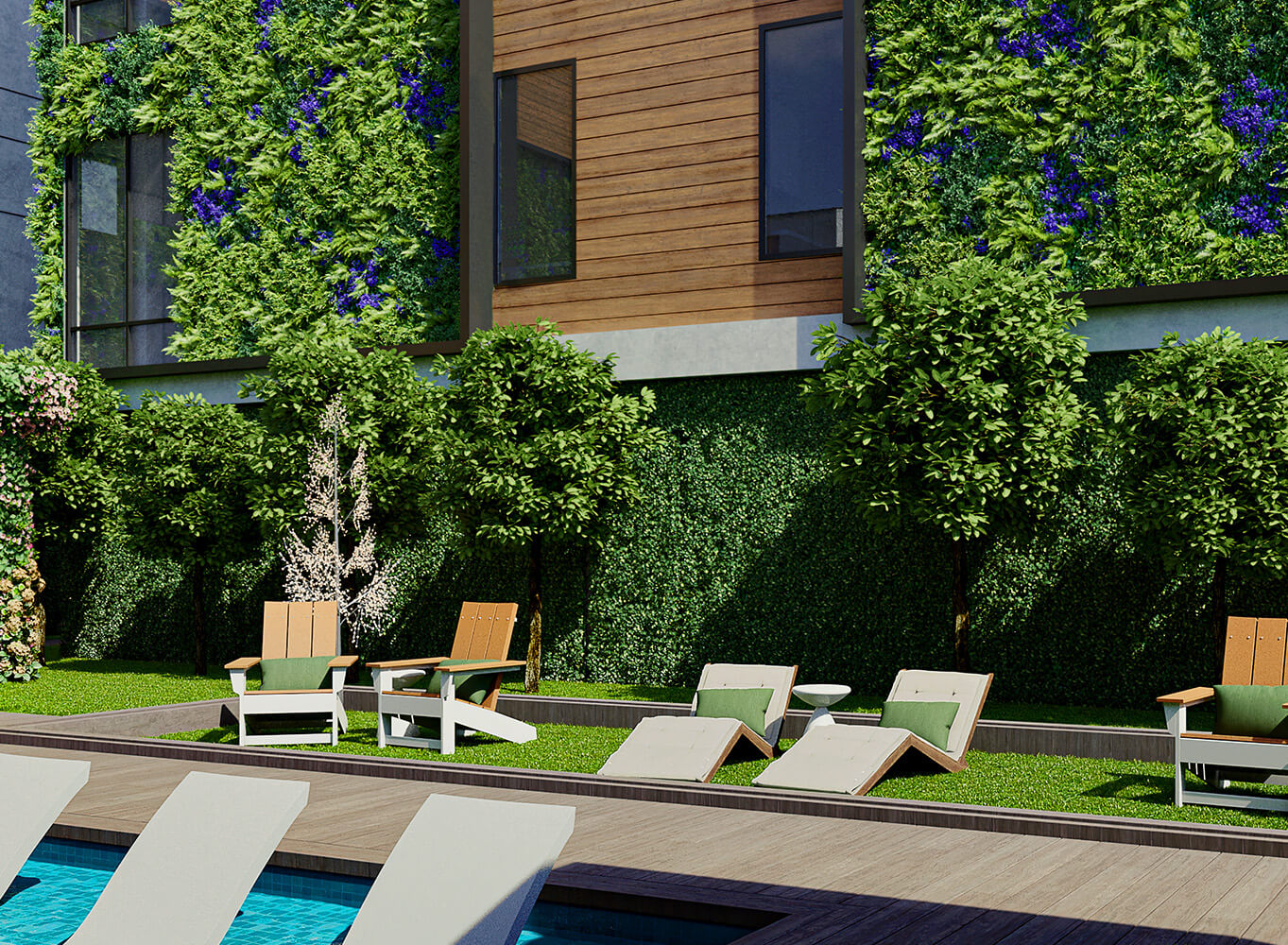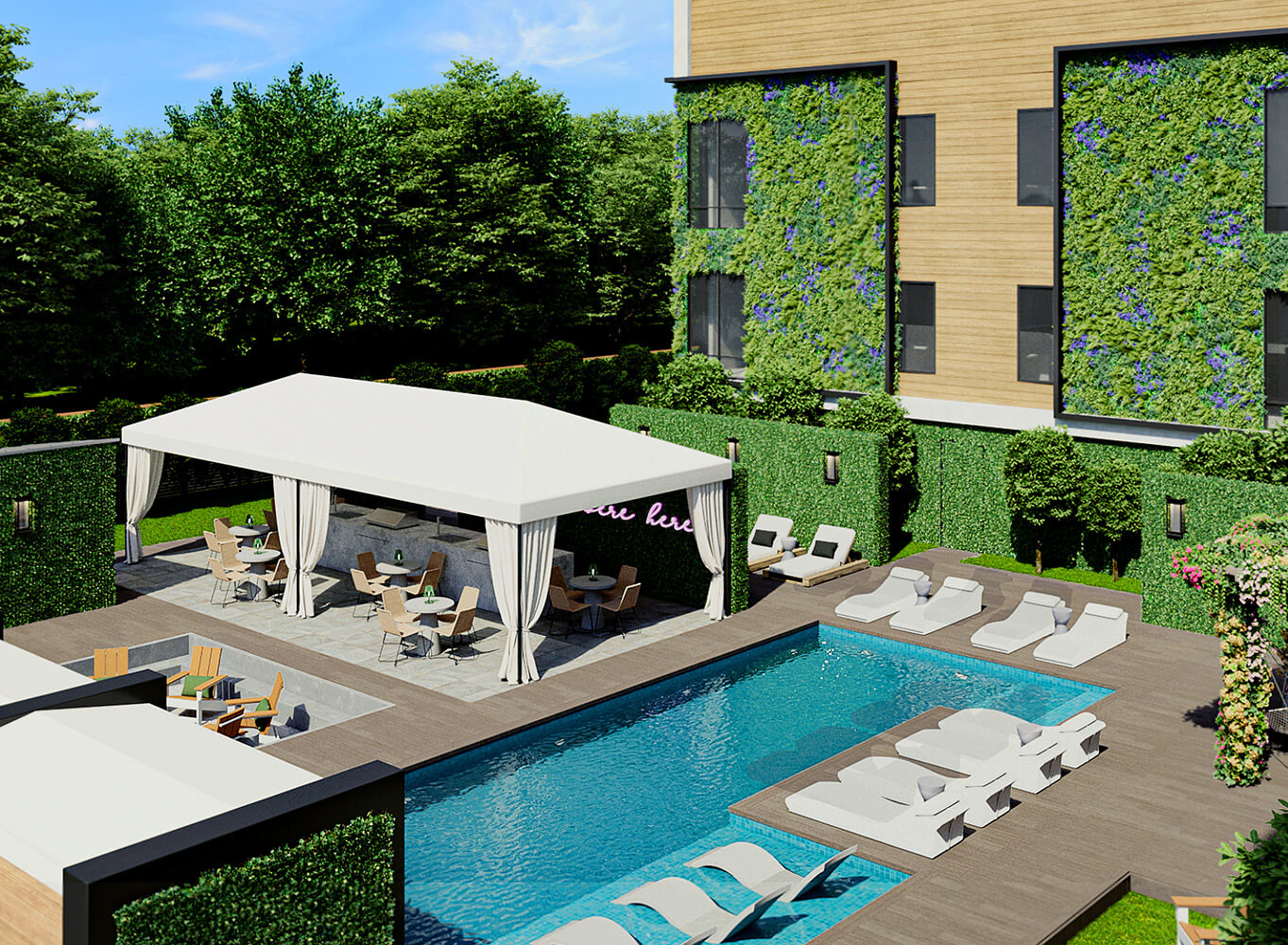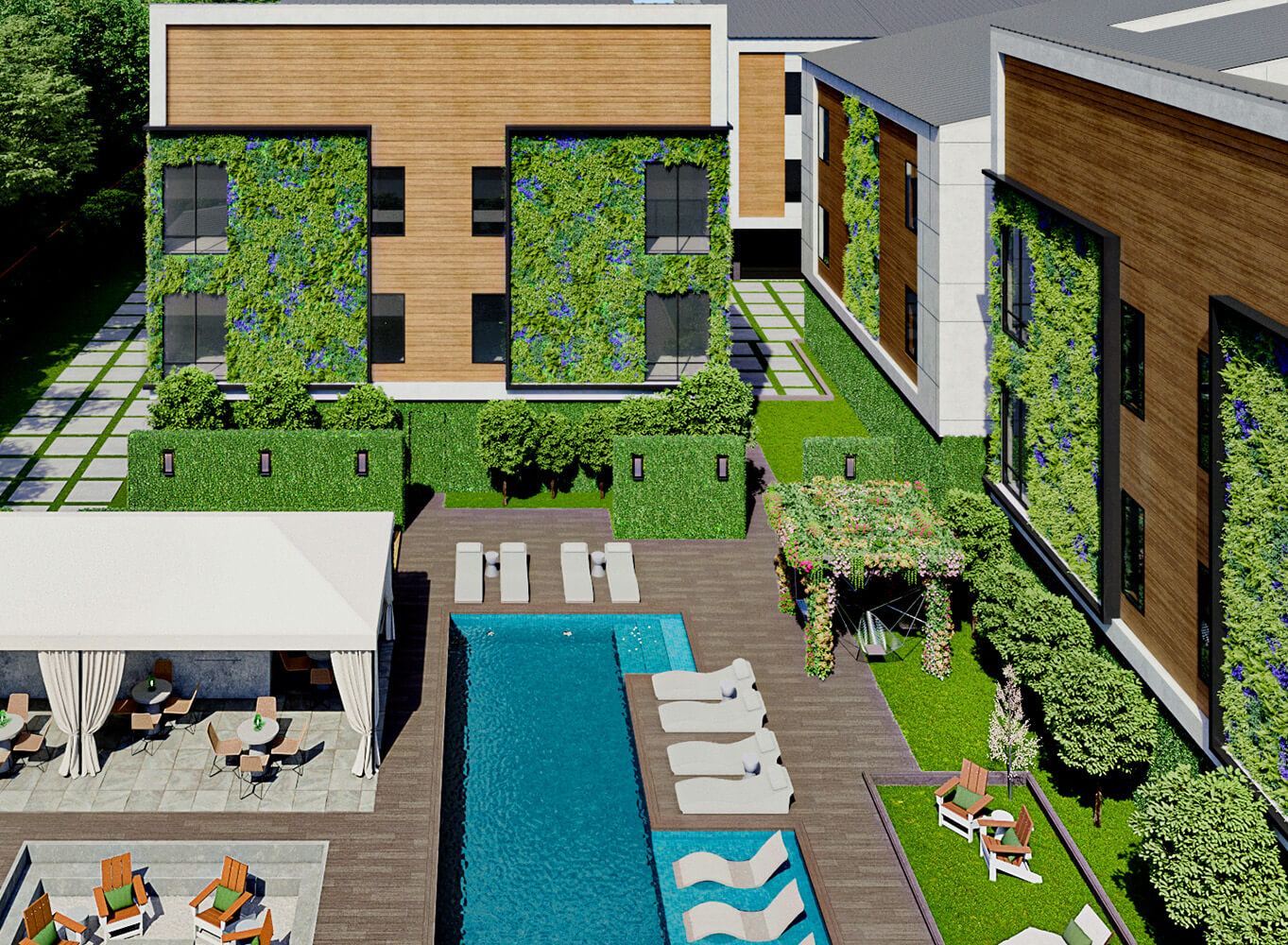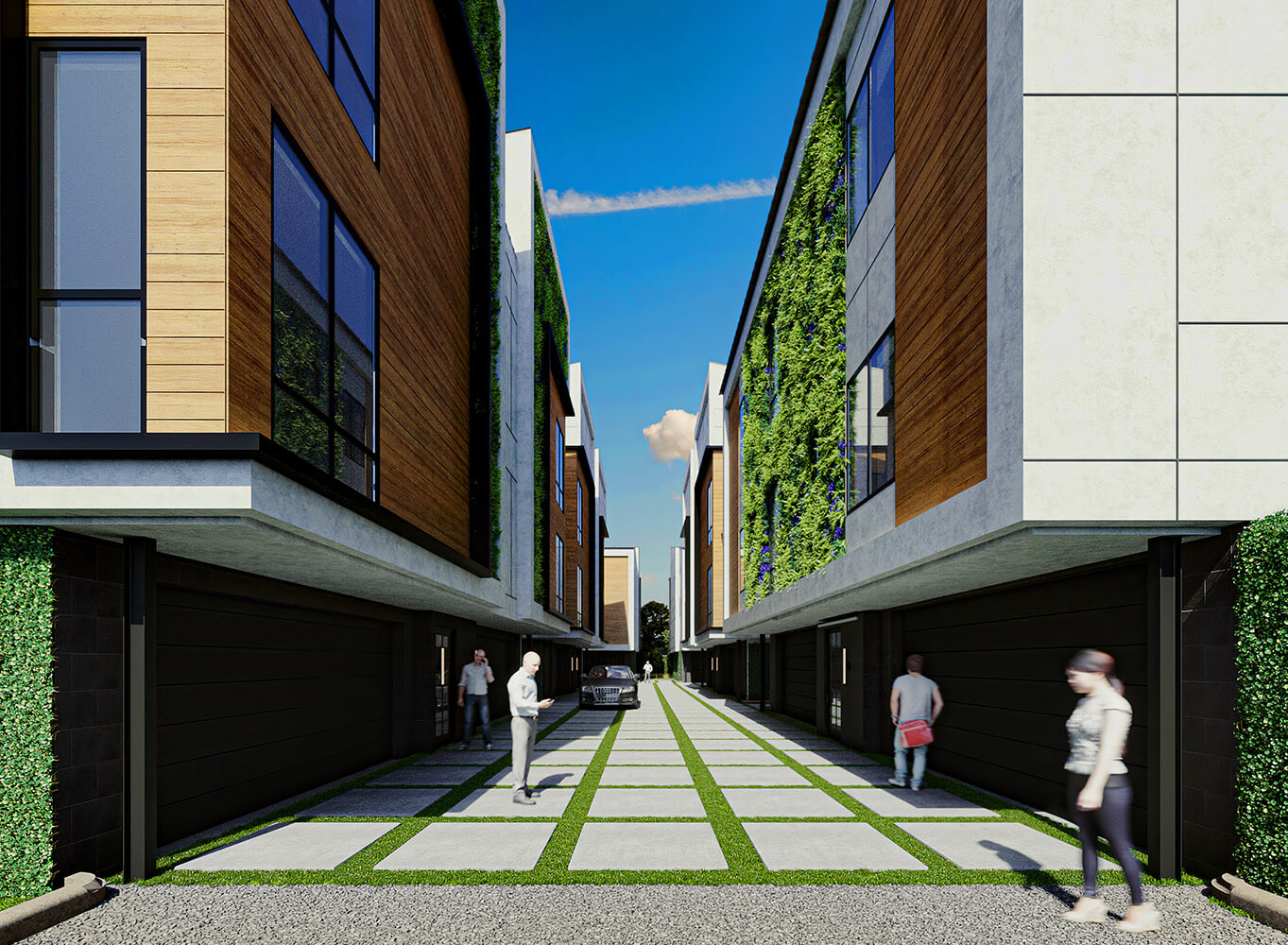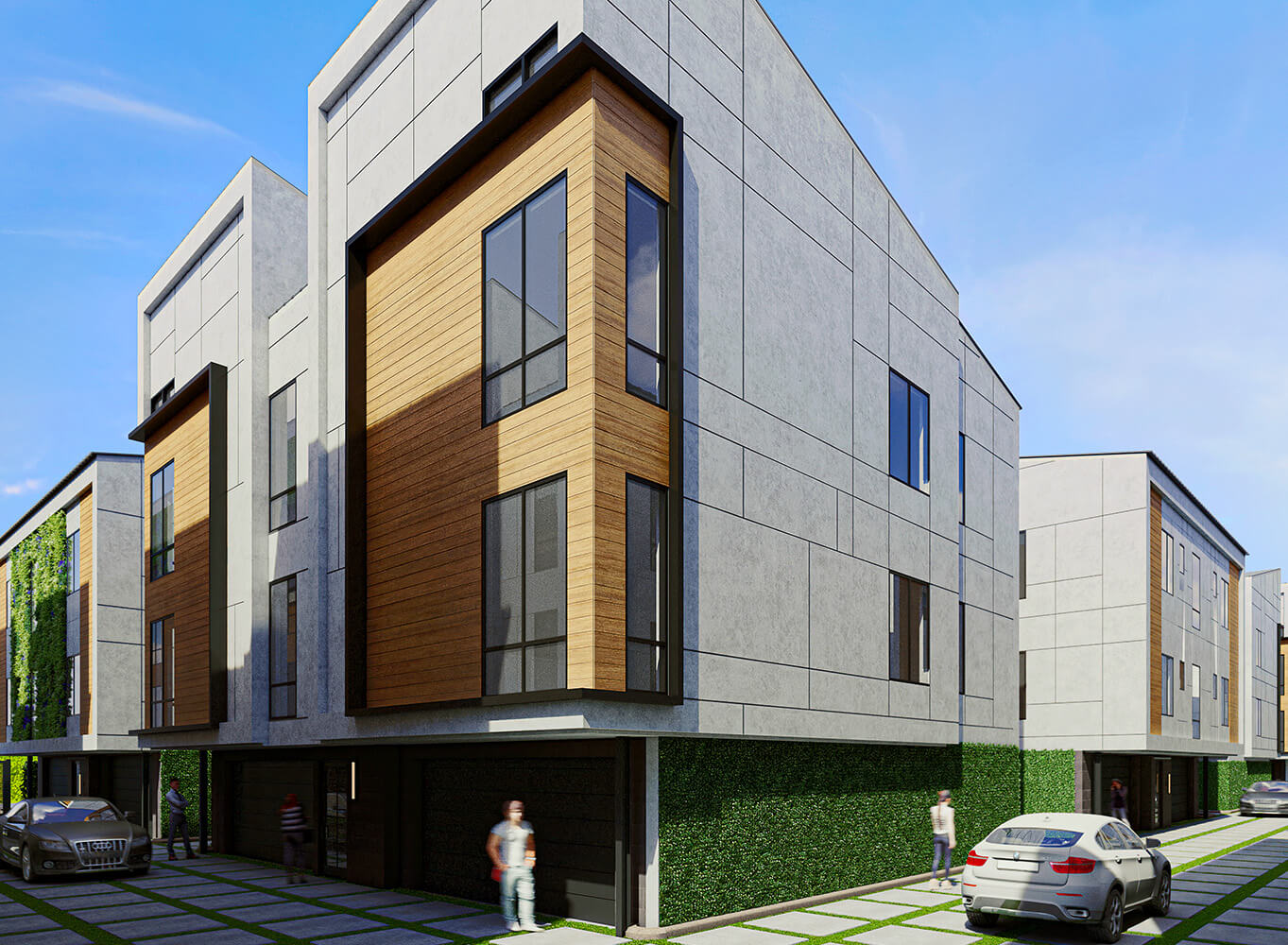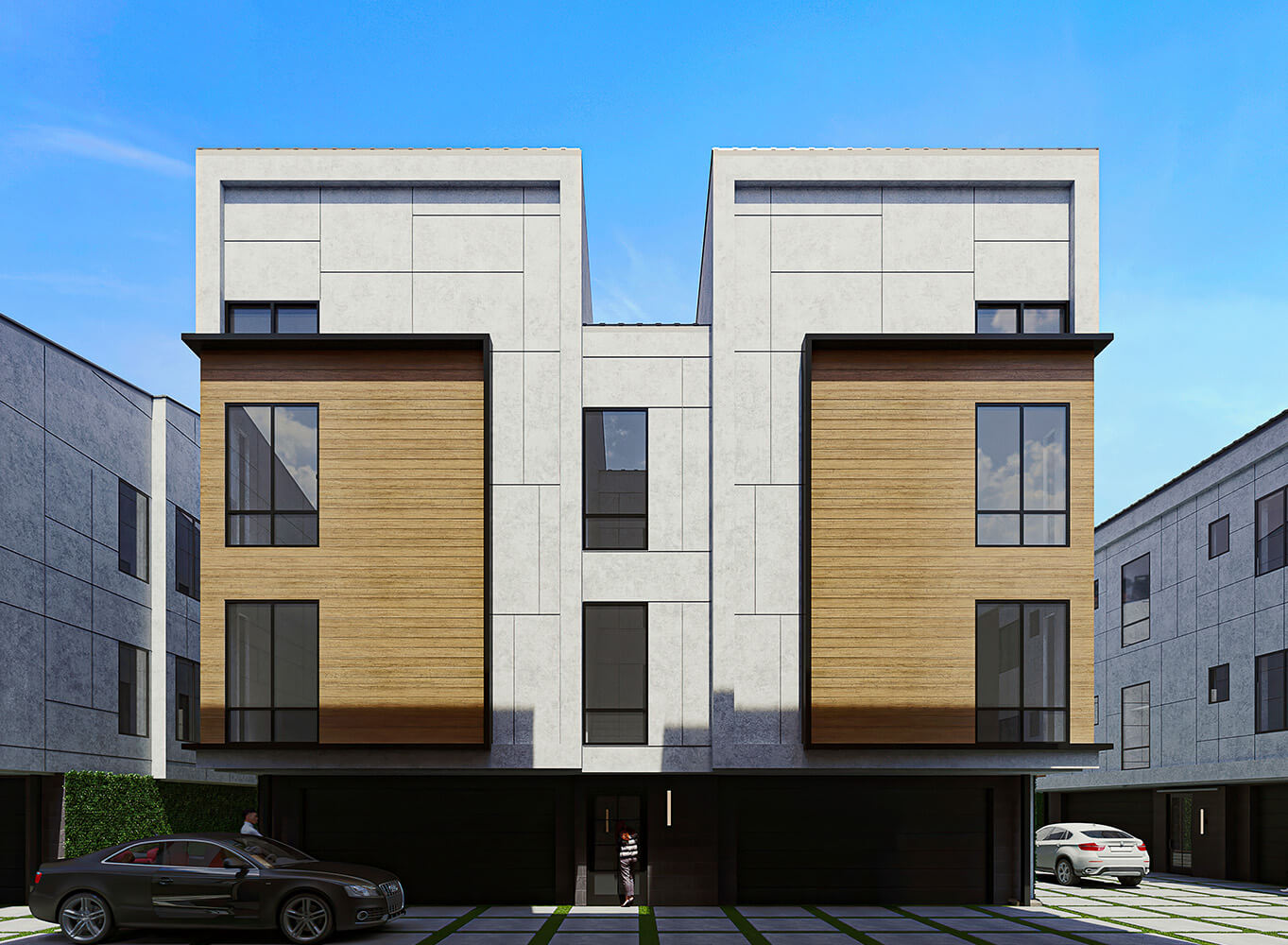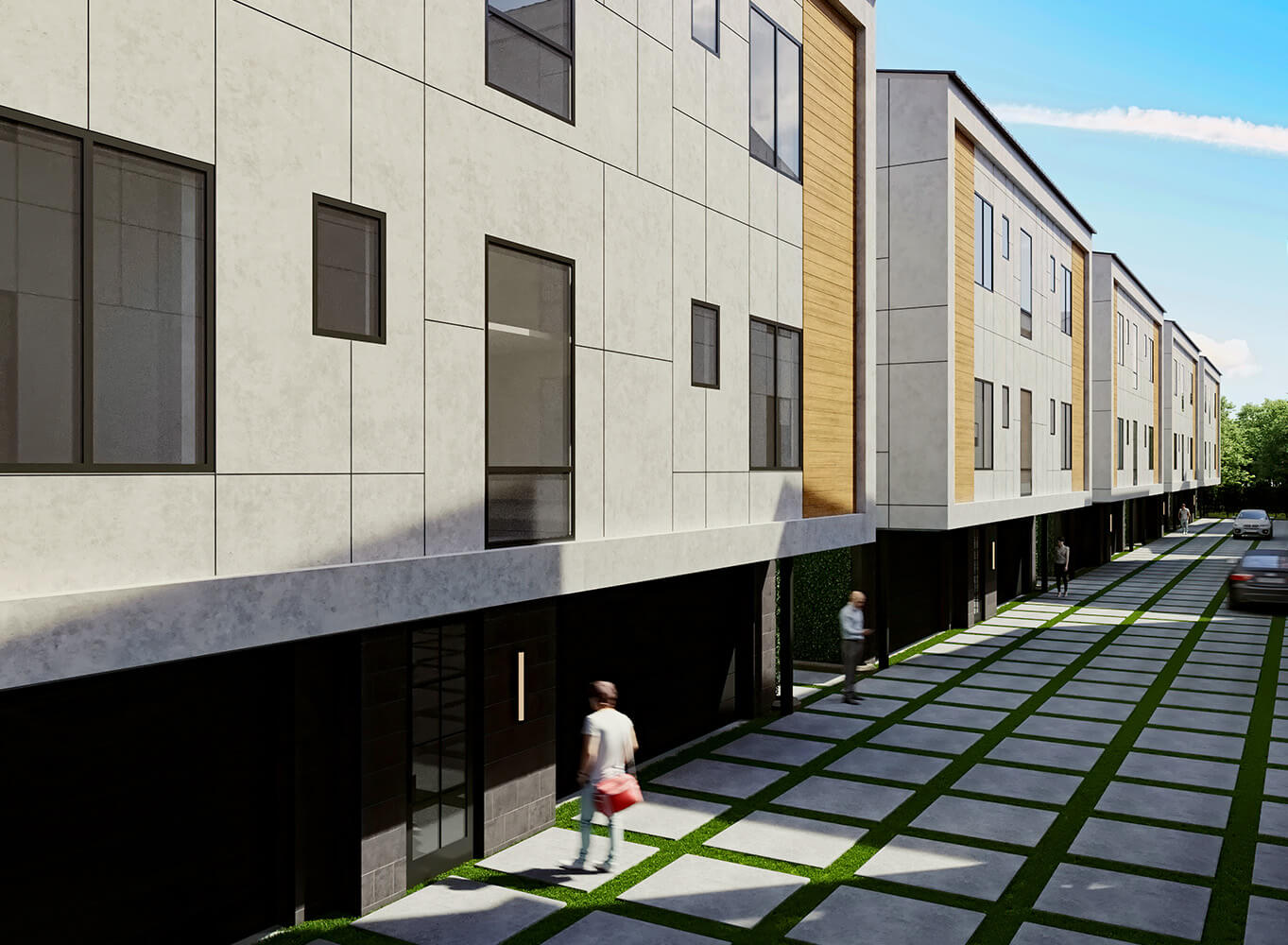 luxury fourplex and duplex
Welcome to
Botanica Southpark
Botanica Southpark is a Class-A, boutique affordable-luxury fourplex and duplex community focused on wellness and advanced smart home automation, set within a beautiful botanical environment. It is located in a highly appreciating, premier neighborhood in booming Austin.
From it's cutting-edge, in-demand coronavirus resistant health and wellness features to its striking, low-maintenance greenwall and boxwood design, everything about Botanica Southpark is designed to attract and retain high-quality, upper-income tenants.
This architectural gem will have tenants clamoring to live in this iconic property, destined to become the future benchmark for lower density multifamily living, while generating outstanding returns and impressive real estate wealth for investors.
128 Units - 27 Fourplexes, 10 Duplexes
Class A multifamily unfurnished development
Construction scheduled for completion in 2023
75k Minimum investment ($100K given priority first 10 days)
Why We Are Head Over Heels Crazy About Austin
Located in Central Texas, a region fueling massive growth for major companies such as Tesla, Apple, Google, Facebook, Samsung, 3M, Amazon, and Dell, Austin is ideally suited for explosive growth. It sits on one end of a colossal  expansion corridor where two of Texas' biggest cities are on a mind-boggling population collision course. The Austin-San Antonio Corridor is one of the fastest-growing regions in the United States and is on track to become a single mega-metro of epic proportions!
Austin's enormous job and population growth is being sustained by it's pro-business environment, highly skilled workforce, low taxes, and competitive incentives. It's no wonder companies and households are moving there in droves.
The one-of-a-kind business and economic climate is generating a truly impressive list of accolades and stats, including:
#1 Hottest Big City Labor Market (Wall Street Journal 2020)
#2 Strongest Metro Economy in U.S. (Policom 2021)
#3 Best Places to Live in America (U.S. News & World Report 2020)
3.2% Annualized population growth, which is 4.7X the national average
A Historical annualized job growth rate of 4.1%, 8.5X faster than the rest of the country!
The region is blessed with seven top-tier colleges and universities, a huge contributor to it's robust talent pipeline and a major incentive for business expansions and relocations to the area.
Going forward, we foresee economic conditions to continue very strongly… with businesses lining out the door trying to get a piece of the action. Join us as we take full advantage of this gigantic opportunity to invest in a powerful metro that is growing like gangbusters with no end in sight.
Stellar Covid-19 Economic and Multifamily Resilience
Austin has been able to weather the pandemic much better than most metros because it has less exposure to the industries most affected by COVID-19, and it is an affordable market with a pro-growth government.
With it's diverse local economy and highly educated workforce, employment barely declined during COVID, compared to large losses at the national level. And with big name companies relocating to the region at a fast pace, new recession resilient jobs are being added to the mix, which is truly the secret sauce to Austin's success and ability to weather any economic climate.
Fastest rent rebound of any major market (Valbridge Market Study)
#3 Best Performing Metro for Job Losses During the Pandemic
Bucking the Pandemic, Austin Is 'The Hottest Market in the Country" (The New York Times, March 23, 2021)
Lost only 1% of jobs between Dec 2019 and Dec 2020, well below the -9.3% national level (US Bureau of Labor Statistics)
#1 Destination in the U.S. for potential commercial real estate investment (CBRE Group, March 2021)
Austin is a hot spot for commercial real estate investment and a magnet for out-of-state corporations looking to move or expand, strengthening its allure as a center of high-tech industry. It displaced Greater Los Angeles as the most preferred market for 2021 because of the resilience in its labor market and an outlook for steady growth.
In 2020, the pandemic and a large supply of new multifamily construction caused Austin rents to decline. But despite rents falling 4%, the South Austin apartment market has seen one of the fastest rebounds in the country since the start of the year. As of April, asking rents are up more than 4% on the year, well ahead of the national average, recovering to pre-pandemic levels.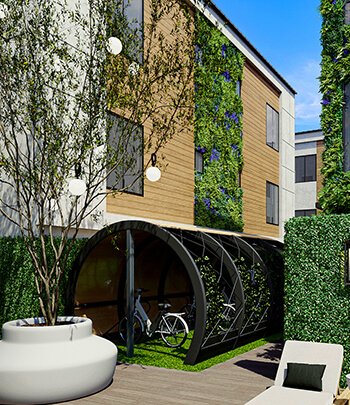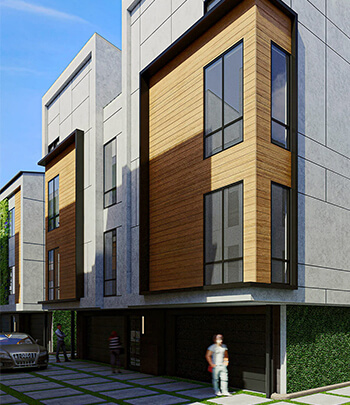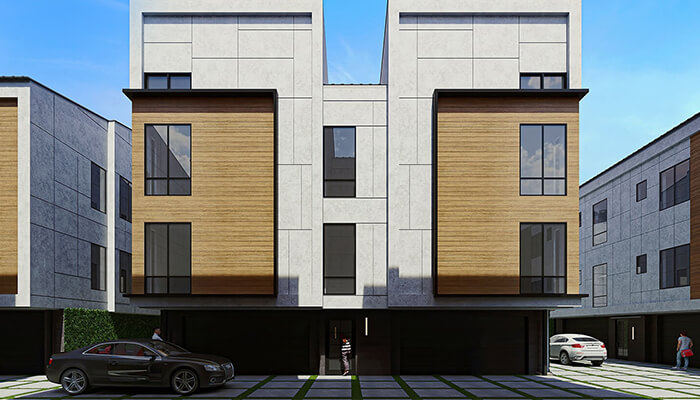 The Micro-Neighborhood, Southpark Meadows
As we drill down to the micro-neighborhood, Southpark Meadows, get ready for some eye-popping numbers, because this is one of the best neighborhoods we have EVER seen! The combination of Austin and Southpark Meadows is like a dream come true when it comes to the numbers we care about as astute investors.
Southpark Meadows is in South Austin, just five minutes away from the popular South Congress District (SoCo). The neighborhood is experiencing rapid population, income, and house price growth:
Wages grew a massive 10% in 2020, despite the nationwide pandemic!
There was positive job growth during the 2020 pandemic while most areas saw major declines
There are nearly 357K jobs available within a 30 minute drive ($70K+ salary)
As you can clearly see from these stunning numbers, South Meadows has an extremely resilient economy that was able to weather a sudden and severe downturn with flying colors. It has everything we could possibly want in a micro-neighborhood as an investor!
The Massive
Employment Boom
With Elon Musk and other tech powerhouses flocking to Texas, Austin is quickly becoming the next Silicon Valley. Big, well-known companies such as Apple, Google, Facebook, Amazon, Tesla, FedEx, Oracle, Whole Foods Market, BAE Systems, and many others have announced company relocations and expansions in Austin.

Giga Texas is the highly anticipated, one billion dollar, five million square-foot Tesla manufacturing plant projected to be completed before the end of this year. Elon Musk has said he expects to create 5,000 to 10,000 new jobs over the next four years. This brand new Gigafactory is located within 20 minutes drive from Botanica Southpark.
Tech giant Google has signed a lease for an entire 35-story tower in downtown Austin called Block 185. Construction of the iconic new tower has started, with occupancy scheduled for Q2 2022. The tower will potentially house about 5,000 employees and is located only nine miles from Botanica Southpark.
Apple has a brand new $1 billion, 133 acre Austin campus under construction, and expects phase one to be completed in 2022. Apple plans to employ up to 15,000 employees at the new campus.
With a premium location, iconic design, and desirable amenities Botanica Southpark will definitely be attracting employees from large tech expansions.
Some of
our raving
investors
I have invested with Neal, Anna and team for years and they are excellent at what they do and return better than predicted returns. They have way exceeded expectations. What impresses me about Neal, Anna and their team is their quality research on every aspect of the market, their excellent communications and updates to investors, and their ability to add value to every property they touch.
I also appreciate their personal care about their investors and that they are accessible to discuss investments and concerns in a prompt manner. I highly recommend them for real estate investments.
I have invested in a couple of opportunities with Neal and his team. These have been performing superbly, and way better than the initial predictions even during the COVID-19 pandemic. The marketing material that the team has put together is top-notch. Awesome job by Neal and his team in managing the properties and consistent communication with their investors.
As a Limited Partner to invest in a syndication, for me, trust is a big factor. With Neal's vast experience in multifamily construction, data-driven approach, and creative ways in solving problems as well as straightforwardness helped in creating the trust.
My name is Azriel and I had the chance to review data and details of the UGro Company with the team and the numbers looked amazing. It is clear that Neal and his team are very data-driven and operate with high levels of integrity. Truthfully, they are more conservative than they could have been for the investors best interest.
Neal has gone through tremendous lengths to create a great opportunity and company for maximum success for everyone together. This is a rare opportunity and company and I am grateful to be part of it.
100 Feet From Central Texas' Largest Shopping Center
While many malls are in a severe downturn accelerated by the pandemic, Southpark Meadows has remained 
98% occupied
! It is not a typical dying mall, it is the opposite. It is a 
vibrant lifestyle mall 
that has national and regional brands, 85 stores and over 30 local eateries. Parking lots are full and 
droves of people are shopping
, eating, and enjoying entertainment.
During a recent visit, Neal was blown away by the lack of parking spaces in the middle of a workday. The outdoor mall was extremely busy with shoppers and families.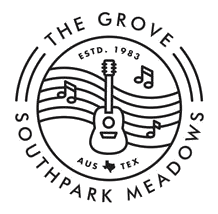 Set within the center of this highly rated retail development is The Grove Amphitheater, an outdoor music venue where seasonal live music performances and comedy shows are free for all to enjoy. There's also an interactive music-themed water fountain, splashpad, and a playground for kids to enjoy… a truly scenic place to stretch your legs and take a breather after a day of shopping, grab a bite to eat, and rest among the shady heritage oak trees.Botanica Southpark is ideally located within the largest shopping district in Central Texas, giving residents immediate access to a myriad of highly rated retail, delicious dining choices, craft coffee, and entertainment options… all just a few steps from the residents front door.
Residents will be able to enjoy modern living with big-city conveniences and the inviting charm of a small-town neighborhood.
continues to set new records
Austin Real Estate
is Sizzling Hot
Austin is a boom market like no other when it comes to real estate. The housing market is red hot due to the booming economy and population migration fueled by lifestyle, culture, and employment opportunities.
#1 Highest House Price Rise (Redfin, 2020)
+40% Median Listing Price in One Year (Valbridge Market Study)
#2 Top Real Estate Market (PwC & Urban Land Institute 2021)
+29% House Price Growth 2020-2021 (Valbridge Market Study)
+103% House Price Growth 2012-2021 (Zillow)
Many homes are now selling for more than 20 percent over asking price
The Austin market is in a frenzy right now and continues to set new records. In addition to crazy price increases, we're seeing 51% more sales volume and 78% less active listings! And the current supply of houses was a record low at only 0.4 months supply, compared to a national average of 1.9 months.
Adding fuel to the fire, as per Zillow's Home Price Expectations Survey, "Austin, specifically, could see a population boom in the next year."
There will be plenty of new renters and renters being priced out of the housing market, or unable to find a property to buy!
Austin's housing market is red hot due to the booming economy and population migration fueled by lifestyle, culture, and employment opportunities.
The Tesla and SpaceX founder is HOT, HOT, HOT for Austin. Watch what Musk, who became the richest person in the world again last month, said of Austin:
"It's gonna be the biggest boomtown America has seen in 50 years, at least."
-Elon Musk
Over the past year, several of Musk's ventures have placed roots in the Austin area, including Musk himself:
Tesla is building a Gigafactory for manufacturing electric vehicles in Travis County
SpaceX is breaking ground on a "new, state-of-the-art manufacturing facility" in Austin.
Boring Company is hiring in the Austin area
His private foundation is relocating from California to Austin
He moved from California to Texas in December
Elon recently tweeted an urgent plea for much-needed housing in Austin, as his companies look to hire employees. Austin real estate has boomed, causing a housing crisis as a multitude of West and East Coast companies look to build up or move their headquarters to the area.
Iconically Styled
Modern Luxury
Botanica Southpark is a modern rental community designed to feel as desirable 20 years from now as it does today. We created Botanica Southpark with the tastes and needs of future tenants foremost in mind, including:
Elevated 10 ft and soaring 16 ft high "Penthouse" ceilings
Superior design and luxury finishes throughout the apartments
10 interconnected smart home devices + high speed Wifi
Delos Darwin healthy home, anti-COVID platform
24/7 triple layer smart security system
Our award-winning design team has selected affordable luxury finishes that look a MILLION dollars but are cost effective and durable.
In contrast to our previous Urbanist projects, this project is NOT student housing and is NOT a furnished product. Our tenant focus is Class A Multifamily residents.
Rental Homes Designed for Active Lifestyles
Don't confuse "designed for a stay-at-home lifestyle" with "designed for a stay-inside lifestyle." Austin is known for beautiful year-round weather and we designed Botanica Southpark for a tenant leading an active outdoor lifestyle.
Botanica Southpark's pioneering design proudly incorporates an array of customized, highly desirable outdoor features which will distinguish it from its competitors and will be the envy of its neighbors.
Alluring designer pool and outdoor relaxation sundeck
Exquisite outdoor chef's kitchen with lounge and dining areas
Lounge seating, deco swing, and beautiful trellised cabanas
EV charging stations in the garage
Stunning botanical design with vertical gardens, pocket parks and green wall boxwoods
All outdoor areas are designed and durably constructed for low cost and maintenance.
In addition to ample amenities and conveniences throughout, Botanica Southpark has incorporated trendy common areas:
'New Age' fitness center with gym and outdoor CrossFit space
Lounge area, study & work space
The lounge area doubles up as a function room, with kitchen and bar and even a movie room, with the very latest in technology and communication solutions for residents.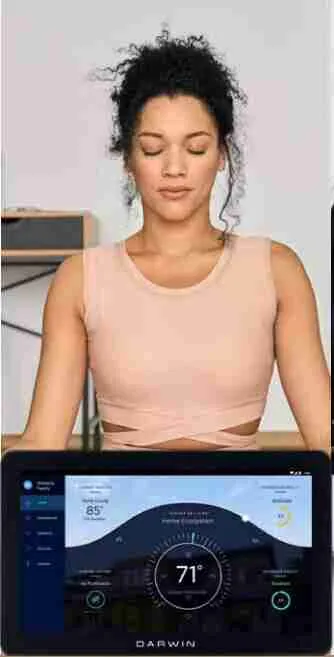 Our Tenants'
Health Matters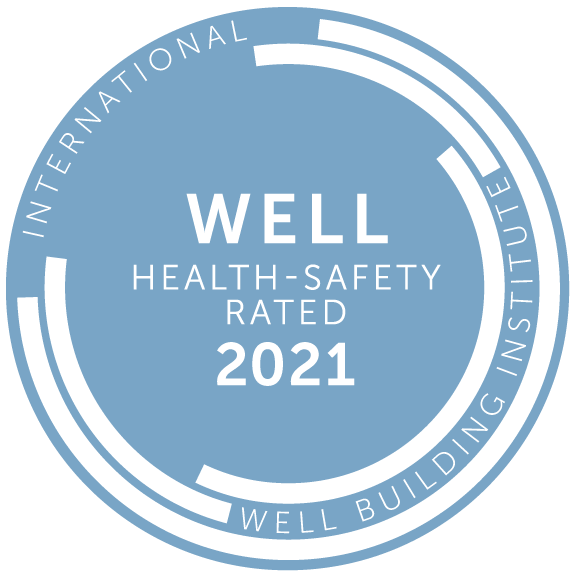 At Grocapitus, we saw wellness trends in real estate a while ago, long before COVID-19 pushed them into the international spotlight. That's why we jumped at the chance to create a Delos Darwin-driven boutique multifamily community. Delos invented the WELL Building Standard.
The system intuitively responds to the conditions in your home, purifying your air and water, and providing dynamic lighting designed to restore your body's natural rhythms.
Our team realized immediately the potential for Botanica Southpark to attract (and keep) high-quality, upper-income tenants, by incorporating a state-of-the-art home wellness system in a pandemic challenged world.
Access to Nearby Abundant Park Land – 300+ Acres
Southpark Botanica offers its residents true serenity and connection to the surrounding landscape, while keeping them closely in touch with the big city. It is only a short walk to Mary Moore Searight Metro Park, an iconic destination park with 1,033 reviews and a 4.6 rating.
Park facilities include an 18 acre disc golf course, tennis courts, a basketball court, sand volleyball courts, a softball field, a multi-purpose field, a 3 mile horse trail, picnic facilities, bike and hiking trails, and playgrounds.
Want to explore the creek? Upstream of the dam, the creek is wide and deep, ideal for fishing, canoeing, or bird watching. Adventure awaits downstream, a perfect spot to encounter frogs, turtles, great blue herons, and enjoy a sense of tranquility in the city.
There's even a mini-runway, complete with taxi aprons, for model airplane enthusiasts. This park has something for everyone!
Open space and access to walking trails and park land is considered to be one of the most sought after amenities residents look for when choosing a new place to live and Botanica Southpark has it in spades!
Branded, Wellness Residence Premiums
Wellness is one of the fastest growing industries in the world, including lifestyle, exercise studios, and organic eating habits. Wellness real estate is a staggering $50 billion a year industry, just in the U.S., and properties featuring wellness can sell much faster and command impressive price premium as compared to 'regular' properties.
5 - 35% Premium
wellness-branded, single-family homes
+31% Premium
average premium for branded residences (Newmark Knight Frank)
Branded developments sit at the most competitive and innovative edge of the market, with purchasers attracted by the opportunity to associate themselves with a known brand. Botanica Southpark leverages the leading wellness brand in the world, Delos.
How we select
Development Markets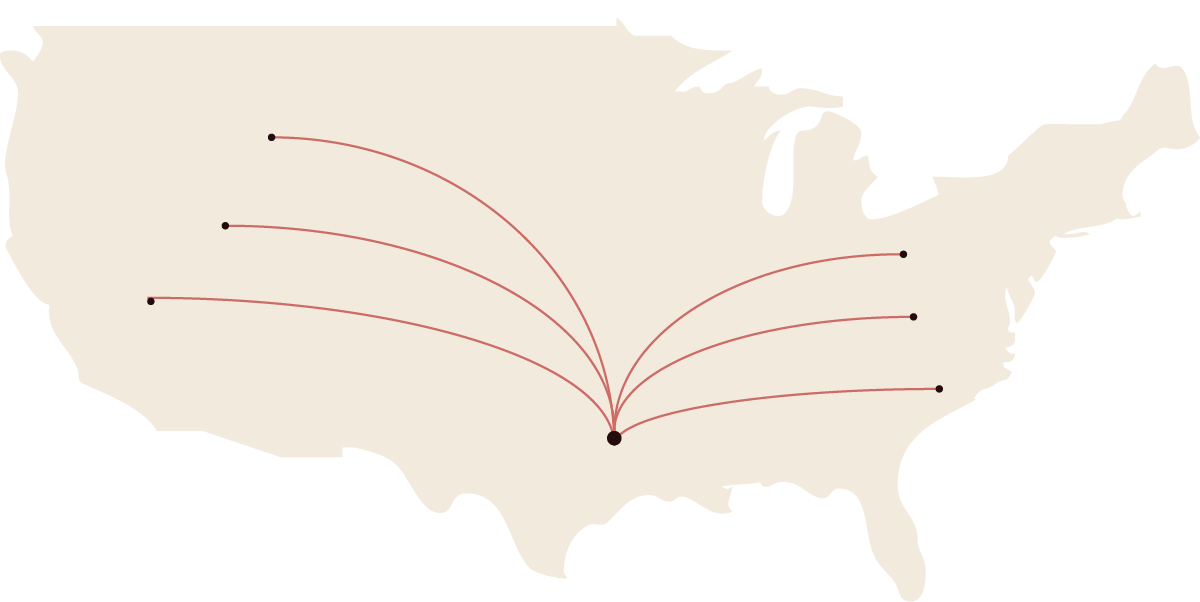 Rent Growth
The 5 year rent growth forecast is one of our key indicators. We use a powerful proprietary method to calculate this value.
Employment
We look for metros and submarkets that are adding a significant number of high-paying jobs, resulting in a stable local economy.
Sales Trends
We continuously monitor local sales to compute cap rates and determine whether our cap rates are on target to reach our projections.
Supply and Demand
We monitor the supply of local units carefully to ensure it will not spike the vacancy rates and negatively impact rents.
This material does not constitute an offer or a solicitation to purchase securities. An offer can only be made by the Private Placement Memorandum (PPM).The PPM and its exhibits contain complete information about the Property and the investment opportunity. The information contained herein is not a substitute for an investor's complete review of all of the information attached to the PPM as part of their own due diligence regarding this investment opportunity and its suitability for their investment portfolio.